Guidelines
The Kerr Foundation, Inc. supports 501(c)3 organizations, programs and institutions that provide new or enhanced opportunity to those within the granting areas, particularly the young. We believe that this is best accomplished in the areas of education, health, cultural development and community service. While preference is given to Oklahoma organizations and institutions, we recognize that such located outside the state and region can also have a beneficial impact on the economic, social and cultural growth and development of Oklahoma. Therefore, we will entertain grant requests ONLY from: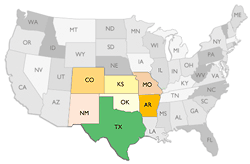 Oklahoma
Arkansas
Colorado
Kansas
Missouri
New Mexico
Texas
We recognize the significant and continuing influence of the Federal government on our state and region, so we accept proposals from the Washington, D.C. area. Oklahoma organizations will receive first priority for available funds.
ONLY 501(c)3 organizations may apply!
Proposals should be received by Friday, July 15, 2016 for consideration at the September 2016 Board Meeting. Please note our office hours are 9:00 a.m. to 4:00 p.m. If your organization would like to apply for support, is a 501(c)3, and the organization is located in Oklahoma, Arkansas, Colorado, Kansas, Missouri, New Mexico, Texas or Washington D.C., then you may download our application form.